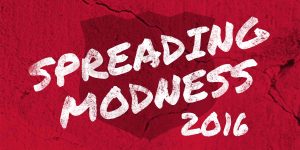 Kent Youth and Family Services and MOD Pizza are joining together to Spread MODness
in Celebration of MOD's Eighth Birthday
 MOD will donate $1 for every pizza sold to provide hope for at-risk youth and families
 MOD Pizza, known for its focus on making a positive impact in their communities, is teaming up with Kent Youth and Family Services to launch its annual Spreading MODness campaign in Kent.  The MOD Squad will be donating $1.00 for every pizza sold to KYFS from November 22 through 27, 2016.
MOD Pizza is located at 13030 SE Kent-Kangley Rd, Kent, WA 98030.
KYFS joins over 175 non-profits across the U.S. that will be the beneficiaries of Spreading MODness 2016 – a week at MOD which is focused on supporting at-risk youth and families across the U.S. and the United Kingdom. This year celebrates the fourth year of Spreading MODness, and through its celebration of "Gratitude with Attitude", each of MOD's 182 stores will be supporting their local charity, with a goal to donate over $250,000 in 18 states and the UK. To learn more watch Spreading MODness 2016  or visit our blog http://modpizza.com/spreading-modness/ to see stories on how MOD is using their business as a platform for good.
-Kent Youth and Family Services