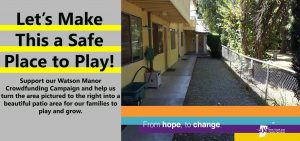 Tucked away in a neighborhood, not far from downtown Kent, sits Watson Manor. For almost 25 years now, it has welcomed its fair share of homeless, single moms and their kids. Each and every young woman comes with a story. Some are pregnant. Others have a young child or children with them. All of them have unstable housing in common. Some sleep on couches, while others make a car work, and others never know from one night to the next where they will sleep. Watson Manor stands as a refuge; a welcome gift after a long struggle. Here, they can find a fully furnished apartment with kitchens ready to go. They can sleep in their own beds and dream of a life a little less unsure. Over the course of the next 18 months, they can focus on building parenting skills, finishing or starting their educational journey, building rental history, establishing credit, and finding a job to make it all a reality. Watson Manor is a restart and has remained so for the better part of two and half decades.
Over the course of those 25 years, we have called on the community several times to help make Watson Manor a home. From painting apartments to replacing carpet, and doing small landscaping projects, time and time again our donors and volunteers have stepped forward to help.
We are once again calling on the community to help. We are asking the community to help us create a safe play area for Watson Manor's toddlers and young children by building a patio directly in front of their apartment units. A patio in this location would provide children with a private area to ride trikes, scooters, and play inside the facility's fenced grounds and away from the parking lot. It would also offer the mothers an area to socialize directly outside their units. Currently, the play/social area is limited to a sidewalk running in front of the units and a small lawn around the corner from the units, next to the parking lot.
Our overall goal for this project is $5,000. To support the project, please click here. Also, if you can help spread the word on social media, it would be greatly appreciated.
On behalf of all us here at KYFS, thanks for everything you do for the youth and families of South King County.
-KYFS