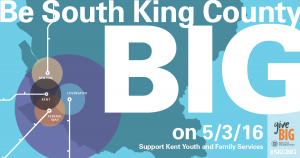 We here at Kent Youth and Family Services pride ourselves on two simple facts. We are your local community nonprofit, which means every dollar you donate stays here. And, we are proud to work all across South King County for youth and families.
By supporting Kent Youth and Family Services during the Seattle Foundation's GiveBIG event, you will take a BIG stance for teenagers seeking a life free from addiction. You will take a BIG leap for kids looking for a safe place to learn and play after school. You will take a BIG step for homeless moms and kids needing a place to call home. You will take a BIG stand for eager little minds ready to learn.
By supporting Kent Youth and Family Services, you will make BIG moments like this possible…

A 16 year old girl was referred to Kent Youth and Family Services for a substance abuse assessment after disclosing a history of drug and alcohol use to her juvenile probation counselor. The assessment recommended she attend and participate in co-occurring intensive outpatient treatment program to address her use of marijuana and alcohol, as well as her mental health issues.

 She regularly attended intensive outpatient treatment at KYFS. While attending a group treatment session, she opened up and became very honest about her history and progression of substance abuse/use. She discussed her history of using methamphetamines, ecstasy, prescription drugs, cocaine, acid, mushrooms, marijuana, and alcohol. She shared that she had a history of substituting and depending on multiple substances.

 She also shared openly with her therapist about her exposure to trauma in childhood such as; living in an unstable or unsafe environment, separation from a parent, domestic violence, physical and emotional neglect, physical/emotional/sexual abuse, intrusive medical procedures, and bullying. She continued to work with her therapist on these issues.

 During the course of treatment, her behavior improved. She regularly attended school, completed her assignments, and followed the rules. She found she was able to maintain her sobriety on a regular basis and willingly went to an intensive inpatient treatment center in Spokane to work on recovery from the effects of continued use. She plans to return to KYFS with the goal of becoming more involved with people and activities that are drug free.
The Seattle Foundation's GiveBIG is the largest annual day of giving in King County. Donors who support KYFS on this day of community celebration makes stories like this possible.
So, join us on May 3 by clicking HERE.
Sincerely,
-Kent Youth and Family Services
P.S. Keep up with our progress by becoming a Fan on Facebook or Following us on Twitter.