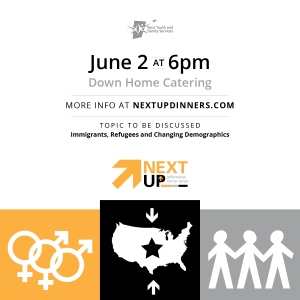 Kent Youth and Family Services, Southwest Youth & Family Services and Renton Area Youth and Family Services are joining forces to offer a one of a kind fundraising event which we are calling the "Next Up: Jeffersonian Dinner Series."
Thomas Jefferson was renowned for hosting dinners at his home where he would bring together people from various backgrounds to discuss the issues of the day. Modeling this same idea, "Next Up" is about bringing together philanthropic and community leaders to discuss some of South King County's most pressing issues. Each event will feature heavy appetizers, drinks, a documentary, a special moderator, and distinct conversations about how each agency is addressing these issues and how you can help.
For our June 2 event on Immigrants, Refugees, and Changing Demographics, we will be featuring a film called, "I Learn America." Below, you can watch the film's trailer and read an outline for the movie.
"In "I Learn America," five resilient immigrant teenagers come together over a year at the International High School at Lafayette and struggle to learn their new land.
The International High School is a New York City public school dedicated to serving newly arrived immigrant teenagers, with more than 300 students speaking two-dozen languages from 50 countries. The students strive to master English, adapt to families they haven't seen in years, confront the universal trials of adolescence, and search for a future they can claim as their own.
Through these five vibrant young people, their stories and struggles, and their willingness to open their lives and share them with us, we "learn America."
To register, please visit the following website: http://nextupdinners.com/
-Kent Youth and Family Services