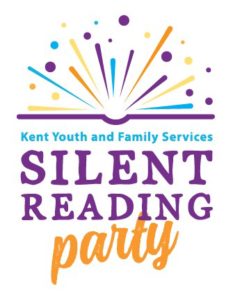 Last night, a small group of donors, supporters, and community members gathered at Sweet Themes Bakery in downtown Kent. Everyone came with a book in tow, ready to read quietly, and give this idea of a Silent Reading Party a try.
At 6 PM, the music stopped. Everyone was invited to help themselves to coffee, water, and fabulous treats. I got up and explained that over the next couple of hours we would be reading quietly together. Nothing but music would be making noise. Everyone in the group was free to help themselves to treats and beverages. I then explained the suggested donation of $10 would help fund our literacy efforts through our Early Childhood Education Program.
Then the music started and we read quietly for two hours. It was glorious. It was a fundraising event without the pressure taking advantage of something we all wish we had more time to do.
Around 8, the music was silenced. People moved their focus elsewhere. Then and there, we decided to do this again in July. Next time, the crowd won't be so small.
-Kent Youth and Family Services