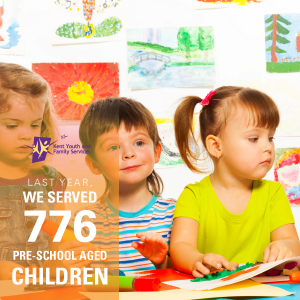 Hello, my name is Gina. I'm an undergraduate student at the University of Washington. I volunteered for KYFS for 2 and a half months for my psychology of gender class.
Some of my duties at KYFS included helping the teaching staff with classroom activities and communicating with the students. There were usually 11-15 students in a class each day I came. With me there, there would be an adult at each table the could either help the students with their projects, learn to count, learn letters, or play with puzzles.
I chose to work on behalf of youth and families in South King County because I feel like this is where I can make a positive impact in my community. Since my time volunteering here ended, I realized that I really love working with kids. At such a young age is when they are so sensitive to the information given to them. I like being able to help them grow in all their skills to get them ready for grade school.
Volunteering for KYFS has positively impacted my life because it made me realize the joy I have being around kids. This experience has also been very relatable to my coursework at school. I was able to go to school, learn the information, and then go to KYFS to see how what I had learned relates to the outside world.
For those thinking about volunteering at KYFS, I would say you should. There are very flexible with time and the staff is very kind. This was a wonderful opportunity not only because it was relatable to my coursework but because you are able to make a positive impact on children's lives. If you are planning on volunteering here, I would say you really should put your all into because you will gain experience you can't get inside a college classroom.
Thank you KYFS for giving me the opportunity to volunteer!
-Gina