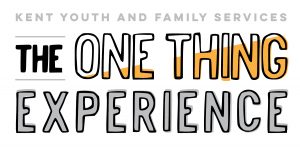 On October 15th, KYFS will celebrate another year of success at our annual fundraising event, The One Thing Experience. We are celebrating, because more and more families are having frank conversations about mental health and substance abuse. Access to early childhood education has never been higher. Our after school centers are buzzing with busy minds. More homeless moms and their kids are using the phrase, "formerly homeless."
We are filled with hope, because everywhere we look there seems to be a success story waiting to be told. "The One Thing Experience" is an opportunity to share those stories. It is also a chance to celebrate all that we have accomplished and recognize the work yet to be done. On Saturday, October 15th, 2016, we will gather to do just that.
To make this event a success, we rely on committed volunteers. Below, you will find several volunteer position, as well as shift positions. To volunteer, please email Nathan Box at nathanb@kyfs.org or call (253) 859-0300.
Set-up: 10 AM-12 PM
Will be responsible for helping decorate and get the venue organized and arranged for the evening.
Registration and Check-out: 4:45-9 PM
Will assist with checking in/out guests. Must be comfortable using an iPad and on the spot reconciliation of donations for the evening. Training for this opportunity will be available the week of the event.
Social Media Team: 5-9 PM
If you are great taking photos/video and describing the moment and you have a smart phone, we need you or the teens in your life.
Balloon Board: 5-7 PM
Donors buy 3 darts for $10. You are there to serve as encouragement, motivate donors to purchase more darts and collect donation forms.
2 More Fundraising Games: 5-7 PM
Yet to be decided.
Heads or Tails: 5-7 PM
You serve as the sales person for the Heads or Tails game. Donors will buy a strand of orange beads from you for $10. You will also collect donation forms.
Raffle: 5-7 PM
Every year, we raffle off 3-5 items. You will serve as the sales person, as well as motivator; encouraging donors to purchase more tickets. You will also collect donation forms.
Dessert Dash: 7:30 PM
The dessert dash takes place at the beginning of the event. Tables put money into an envelope. The tables that donate the most money get the opportunity to dash for dessert first. You will collect envelopes and help totaling the amounts.
The Ask: 8 PM
You will help me record donor bid numbers for each giving level.
Clean-up: 8:30 PM
The job no one loves…
Thanks for your consideration,
-Kent Youth and Family Services