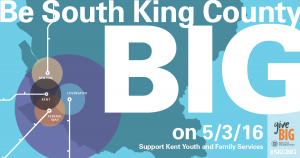 We here at Kent Youth and Family Services pride ourselves on two simple facts. We are your local community nonprofit, which means every dollar you donate stays here. And, we are proud to work all across South King County for youth and families.
By supporting Kent Youth and Family Services during the Seattle Foundation's GiveBIG event, you will take a BIG stance for teenagers seeking a life free from addiction. You will take a BIG leap for kids looking for a safe place to learn and play after school. You will take a BIG step for homeless moms and kids needing a place to call home. You will take a BIG stand for eager little minds ready to learn.
To maximize our reach during this year's GiveBIG event, we are looking for social media volunteers who are willing to help share images and posts we share to Facebook, Twitter, and Instagram on 5/3/16. Since GiveBIG is primarily a social media driven campaign, your work on 5/3/16 can help KYFS reach even more potential donors. With every gift, we can further our impact on the lives of youth and families right here in South King County.
For more information or details on how to volunteer, please reach out to Nathan Box, Director of Development and Community Relations, via nathanb@kyfs.org.
Thanks for your consideration and we hope to hear from you soon.
-Kent Youth and Family Services