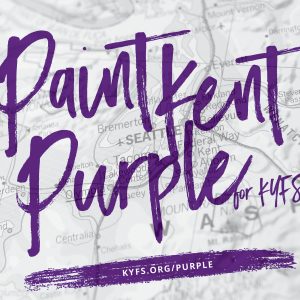 As the fundraiser for KYFS, I am always searching for new and exciting ways to raise awareness and revenue for KYFS. I do my best to stay abreast of emerging trends in the fundraising world and I try my best to be an early adopter of methods I believe could work for our agency. Over the past few years, I have grown to the love the idea of crowdfunding. In my personal life, I've used this form of fundraising to raise money for heightening awareness around men's health, ending cancer, and pumping more resources into suicide prevention. Each of these causes has impacted my family and are issues for which I am deeply passionate.
When I survey our supporters, I see that same level of passion. Countless people have emailed, called, or stopped me at an event to tell me why KYFS means so much to them. These stories move me and provide purpose. I know the support for our mission exists out there. With Purple Day for KYFS, we attempted to turn that support into funds. Utilizing crowdfunding, we thought we could turn those who love our mission into donors who would turn their friends, family, and neighbors into donors.
Despite our best intentions, we didn't meet our goal. Looking back, our mission could have been confusing, it could have been the wrong time of year, the tool could have been wrong, or a myriad of other things. What we do know is this: every failure leads to an opportunity. This may be the end of Purple Day for KYFS, but we are back at the drawing board researching better ways to engage people through crowdfunding, honing our mission, and working even harder to turn supporters into fundraisers. With this in mind, we don't look at this event as a complete failure. We learned something and are preparing ourselves to move forward. As we do, we look forward to your insight and thoughts. So, comment below and let us know what you think.
-Kent Youth and Family Services