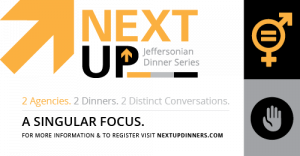 On Aug. 9th, we joined forces with Southwest Youth and Family Services and held our event in the 2nd Annual Next Up: Jeffersonian Dinner Series. Our gathering focused on human trafficking and sexual exploitation. At Kent Lutheran Church, we gathered with a group of 20 donors and watched, "Tricked." The documentary gave a gut-wrenching account of the world of prostitution. As we finished the film, each table broke into small groups to answer three questions:
How did the film make you feel?
What can be done to prevent trafficking from occurring in our community?
How should our community respond once trafficking has occurred?
After 20 minutes of conversation, we came back together as a group and discussed. Our donors provided much to think about and gave fascinating answers. As an agency, we took much of what they had to say to heart.
Finally, the evening closed with an update on our efforts to combat human trafficking and sexual exploitation in our community. At last year's One Thing Experience, we announced an effort to raise funding for a Case Manager position that would work in conjunction with the Kent Police Department. When victims are rescued and say they are ready to leave "the life," this new case manager would step in to provide counseling, referrals to services such as housing, education, etc. We told everyone assembled that we were currently interviewing for the position and the funds raised from this event would help put us over the top.
As people began to gather their things, something felt different. It felt as if a small group was leaving ready to combat human trafficking and sexual exploitation in our community. We left hopeful that one more child won't be lost to this dark and evil crime.
-Kent Youth and Family Services