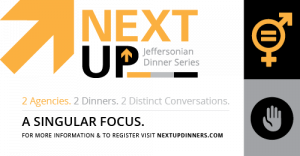 At last year's One Thing Experience, we began a conversation on how we would address human trafficking and sexual exploitation in our community. Our Next Up Dinner is an opportunity to continue that vital conversation!
We are joining forces with Southwest Youth & Family Services to offer a one of a kind fundraising event which we are calling the "Next Up: Jeffersonian Dinner Series."
Thomas Jefferson was renowned for hosting dinners at his home where he would bring together people from various backgrounds to discuss the issues of the day. Modeling this same idea, "Next Up" is about bringing together philanthropic and community leaders to discuss some of South King County's most pressing issues. Each event will feature dinner, drinks, a documentary, special moderator, and distinct conversations about how each agency is addressing these issues and how you can help.
Kent Youth and Family Services Event
August 9 @ 6 PM
Kent Lutheran Church
Topic to be discussed: Human Trafficking & Sexual Exploitation
To register, please visit: http://nextupdinners.com/
-Kent Youth and Family Service