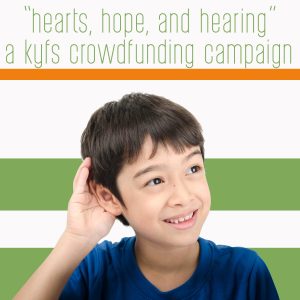 In our work to prepare children for kindergarten, we strive to address unknown health needs. Since many of our Head Start & ECEAP kids come from low-income and/or families of immigrants and refugees, we are often the first line of defense for vision screenings, vaccinations, and beginning the process of building a medical history.
Our "Hearts, Hope, and Hearing" crowdfunding campaign is about expanding those efforts to do even more by providing hearing screenings. Purchasing the Maico EroScan will allow us to screen a large number of children very quickly. By providing hearing screenings, we hope to achieve the same kind of results we have found with our vision and dental exams.
Over the next few weeks, we will be sharing success stories and our vision for what we hope to achieve at www.kyfs.org/impact. We encourage you to check back often. You can also help us reach our goal by sharing the post with your family and friends.
For more information on our "hearts, hope, and hearing" campaign, please click HERE.
-Kent Youth and Family Services