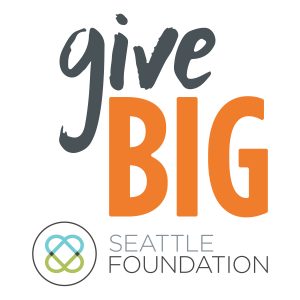 Position Title: KYFS GiveBIG Social Media Volunteer
When: April 10 – May 10
Where: 232 2nd Ave. S. Ste. 101 Kent, WA 98032 for weekly check-ins
Position Overview: Do you have a passion for writing and storytelling? Do you believe every person has a valuable perspective and experience to share? Do you want to use your creativity to improve South King County while improving your professional experience? Then our KYFS GiveBIG Social Media Volunteer is the position for you.
Kent Youth and Family Services is seeking a GiveBIG Social Media Volunteer to help build our presence leading up to the Seattle Foundation's GiveBIG fundraiser on May 10. You'll have a chance to pitch ideas, report and write original stories, network with local experts and guest bloggers, and engage our social media audience in discussions related to GiveBIG. You'll gain hands-on experience in writing, editing, content creation, blog management, social media, project management, and nonprofit communications.
Desired Talents: You've got a great ability to write an update, tweet, or post that attracts attention. Those around you see you as a master of words. You possess a curiosity that can't be quenched. You ask really great questions. You are in love with your community and eager to give back.
Key Responsibilities:
Under the supervision of the Director of Development and Community Relations
Help create content for the blog
Contribute ideas to the newsletter
Create visual assets to use during the GiveBIG campaign
Create social media content
Monitor blog and social media performance and suggest posts' format and content
Identify and build relationships with key community figures
Moderate blog comments and inquiries
Attend events, conduct interviews, and collaborate KYFS clients, volunteers, donors, and staff to further the agency's image
Need to Haves:
Relevant work or volunteer experience
Strong project coordination skills, including ability to prioritize, work proactively, and build positive relationships with coworkers and collaborators
Ability to articulate your ideas and write clear, error-free prose
Track record of keeping commitments, meeting deadlines, and communicating openly to keep teams and projects moving forward
Outstanding organizational skills and attention to detail
Curiosity, imagination, sense of humor, and drive to learn new things every day
Odds and Ends
Must be available for a minimum of 5 hours per week
Start day is flexible
End date is May 11
How to Apply
Please email a cover letter, resume, and writing sample to Nathan Box at nathanb@kyfs.org with subject line SOCIAL MEDIA VOLUNTEER.