Sponsorship Opportunities
At Kent Youth and Family Services, we are committed to ONE THING; change.
Want to be a part of that change? Participate in "The One Thing Experience" with an Event Sponsorship.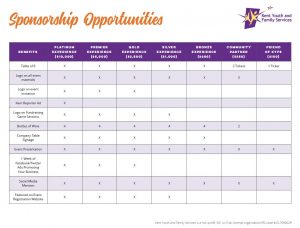 Choose your sponsorship level and purchase online via Paypal! Click "Buy Now" to complete your purchase. Click here to download and print the sponsorship form.
Sponsorship Level
Your Full Name
Your Business Name
Please call or email Michelle Newton with the list of attendees.
michellen@kyfs.org or 253-859-0300
Please return your sponsorship form (and check payment, if not using PayPal) to:
Kent Youth and Family Services
232 Second Avenue S., Suite 201, Kent, WA 98032
Fax: 253-859-0745
Email: nathanb@kyfs.org
Please call for more information : 253-859-0300
KENT YOUTH AND FAMILY SERVICES IS A NON-PROFIT, 501 (C) 3 TAX EXEMPT ORGANIZATION/IRS CODE #23-7090029