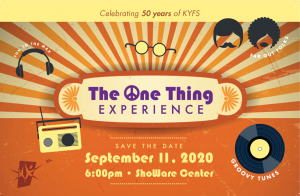 Every single day of the year, youth and families of all ages work up the courage to walk through the door of Kent Youth and Family Services. They come here wanting to free themselves from a life of addiction, looking for a roof overhead, a safe place to play and grow, as well as to fulfill a desire to learn. With this in mind, there is much to celebrate. 
Join us for an evening of dinner, dancing, and storytelling as we celebrate five decades of service in South King County. Together we have helped thousands of young people and their families achieve their goals for a better future. Together we will help thousands more.
Honoring Executive Director Mike Heinisch on the occasion of his retirement and 20+ years of service at KYFS.

During this time of uncertainty due to COVID-19, please check back here for any changes or updates that might need to occur.