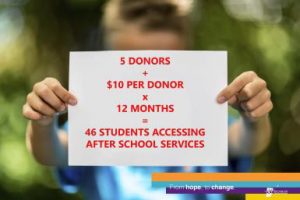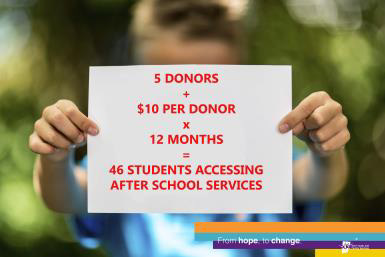 Support Youth and Families All Year Long
When a teenage woman decides to fight depression, a young man chooses to end his addiction, little hands are raised in a classroom, basketball courts come alive, and a homeless mom says, "I am home," you can be there to celebrate those moments of victory. You can smile and know you had a part to play in turning someone's life around. When you give monthly to KYFS, you make moments like these possible. At KYFS, small gifts create big change.
$50 a month provides a safe space and caring adult role models that support a young person through academic, enrichment, physical, and social activities after school.
$350 a month supports a family in healing; learning healthier ways to manage emotions, conflict, and mental health challenges.
$500 a month funds nutritious, healthy meals for a child throughout the school year, to ensure they are ready to learn and grow.
$1000 a month provides case management for families at risk of homelessness.
$1500 a month supports a homeless young mother and her child, providing stable housing, community, and a sense of purpose and direction.
No matter the amount you give, know that you are making a difference in the lives of youth and families in South King County. Signing up couldn't be easier. Click on the link below, enter your monthly giving amount, and select Make This a Monthly Donation.