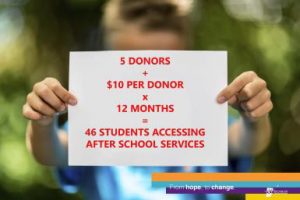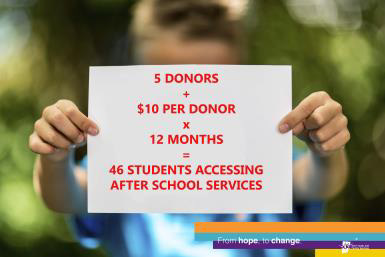 BE A CHANGE AGENT ALL YEAR LONG!
When a teenage woman decides to fight depression, a young man chooses to end his addiction, little hands are raised in a classroom, basketball courts come alive, and a homeless mom says, "I am home," you can be there to celebrate those moments of victory. You can smile and know you had a part to play in turning someone's life around. When you give monthly to KYFS, you make moments like these possible. At KYFS, small gifts create big change.
Your monthly donation helps form a predictable source of income we can count on to fund our programs. When you enroll in the program, you will join with other donors to provide the following.
$700 provides a safe place for kids to be educated and entertained instead of the streets providing their own brand of entertainment.
$1,400 can teach a kid to love himself again and to look within himself for strength instead of drugs serving as a refuge.
$11,000 can teach low-income children they too deserve a quality education and that their economic standing in this world shall not determine their future.
$13,000 can save a homeless mother from desperation by providing stable housing and a sense of purpose and direction.
On a yearly, monthly, and weekly basis the costs associated with each of our programs breaks down like this:
After School: $700 a year, $58 a month, and $13 a week per child.
Counseling: $1,400 a year, $116 a month, and $26 a week per child.
Head Start & ECEAP: $11,000 a year, $916 a month, and $211 a week per child.
Watson Manor: $13,000 a year, $1,003 a month, and $250 a week per child.
Choose an amount that is comfortable for you; $5, $10, $25 or $100. No matter the amount you give, know that you are making a difference in the lives of youth and families in South King County. Signing up couldn't be easier. Click on the link below, select your monthly giving amount, and select recurring gift.